Thanks for your interest in Antigravity Batteries!
We would be happy to have you as part of our evergrowing list of partners.
Antigravity's starter batteries are well-established in the powersports industry. Now with our line of pocket-sized Personal Power Supplies (PPS), and innovative Bluetooth electronics, our products are also perfect for companies outside of motorsports industries, who need a great product that does everything and is useful to anyone. From Outdoor Stores to Hardware Shops, to Farm Equipment Stores… everybody can sell a MICRO-START!







Be at the forefront of Lithium-Ion battery technology
by joining Antigravity's rapidly growing network. You will find we offer the best in cutting edge Lithium-Ion products, along with
great margins
, multiple
program options
, and excellent service to our Distributors and Dealers. When you need support, our knowledgeable team is here for you with 4 phone lines and rapid response to email inquiries to get your tech questions answered and offer the
best customer service
possible!
As an Antigravity partner, we also offer you everything needed to market our products easily and most effectively. We provide great-looking Point of Purchase (POP) Displays for countertops and floor spaces, including attention-grabbing brochures, artwork, images, and all things to make our compact products jump out at customers – Antigravity products sell themselves.

MORE POWER, BETTER DESIGN, BUILT TO LAST…
See our impressive products in action and learn more about their uses and advantages! We have informational videos about each of our must-have MICRO-STARTS and their features. Also watch a video demonstrating its incredible jump-starting performance.
This is an informational video about the Antigravity Batteries MICRO-START XP-1. Our Micro-Start line of jump-starters is the best rated and best selling on the market!

THE WORLD'S SMALLEST, LIGHTEST, MOST POWERFUL BATTERIES. Below you will find helpful downloadable data including our Micro-Start Info Brochure, our Antigravity MAP Policy and Dealer Application.
INFO BROCHURE
From our original starter batteries for Motorcycles, Powersports and Race Car uses, to introducing the first mini lithium-ion jump starter (the MICRO-START) and lithium booster packs to related industries, we are leading developers of lithium-ion battery technology for Motorsports and beyond. We are NOT a trading company just reselling a product but we ARE a designer and builder of extremely high-quality lithium battery products. Take a look at our Info Brochure for all the details on our innovative Micro-Start products.

MAP POLICY
Antigravity Batteries actively supports the advertising and promotion of its products through various avenues by its dealers, jobbers, wholesalers, and warehouse distributors. Antigravity Batteries has adopted the MAPP (Minimum Advertised Pricing Policy) found below to maintain the value of its brands, including preserving goodwill, market value and the goal to strengthen all aspects of Antigravity Batteries' relationships with its valued Authorized Resellers. The MAP Policy will promote fair pricing and the benefits of maintaining a fair margin for all parties which comply with this Policy.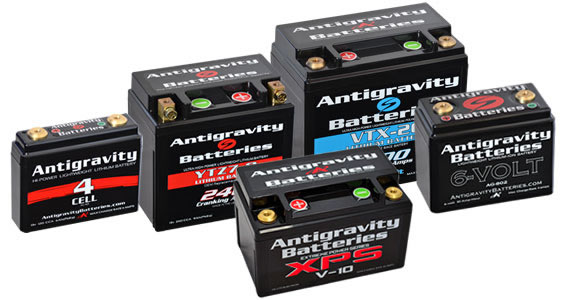 DEALER APPLICATION
Antigravity Batteries makes safe, high performance products by using our direct knowledge and experience in Lithium-Ion manufacturing technology and working with the best Lithium cell and circuit board manufacturers. We are true experts and leaders in this fast growing field, creating some of the most exciting commodities on the market!
Antigravity offers programs for all levels of partnerships from local dealers to national distributors, and we would be glad to speak with you about working together. Take a look at our Info Brochure and MAP Policy, then fill out the Dealer Application and you can be set up immediately by our excellent support team!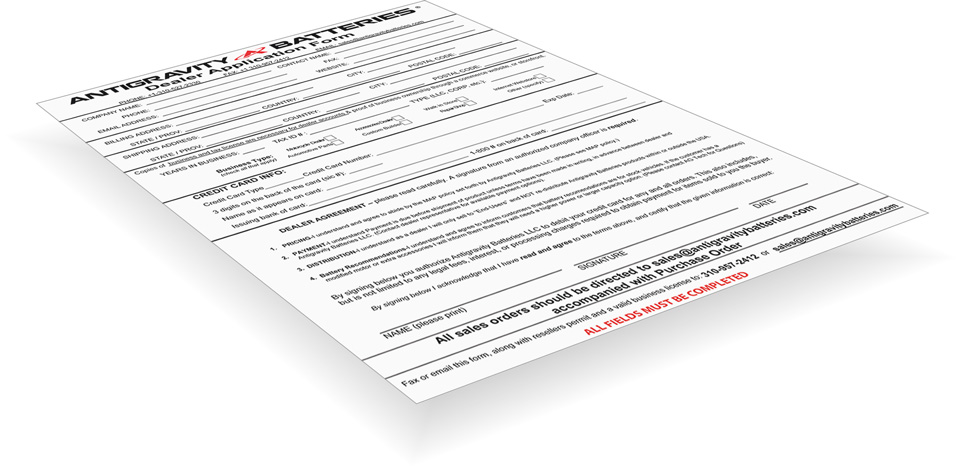 We are the next generation of Lithium-Ion batteries for vehicles and personal power uses, and for cutting edge Electronics! Antigravity Batteries has partnerships with reputable brands across multiple industries, distributing our top-quality products. Here is helpful information for a few of our sales partners in motorsport, retail battery, and tool industries: