The Micro-Start SPORT is one of the smallest lithium-ion Jump-Starter / Personal Power Supply (PPS) units available. It's also the most compact Micro-Start Kit. Another feature distinguishing SPORT is its ability to recharge via any Micro-USB connection, such as found on your computer, in your car, a hotel or an airport. This allows for the ultra compact travel kit, as the same USB Cable can be used to charge both SPORT and your various USB devices. SPORT is small enough to fit in your pocket yet so powerful it easily starts cars, trucks, motorcycles, ATVs, UTVs, snowmobiles, watercraft & more.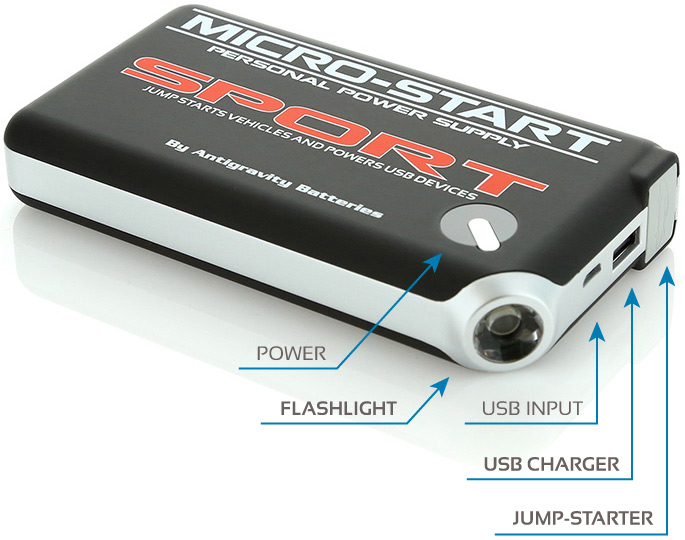 JUMP-STARTER
Safely and easily Jump-Start your car, truck or powersports vehicles. SPORT has 150 Amps starting current with 300 Amps Peak. It can start cars up to 20X on a single charge! Jump-start vehicles with gas engine sizes up to 4 liter V6. The included Smart Clamps have a sturdy design with strong pivot points. They also feature multiple built-in protections.
  POWER SUPPLY
Conveniently Charge & Power your devices. The SPORT has great capacity for back-up power: 7500 mAh! It has a 5V 2A USB port to quickly charge most of your USB-powered electronics (Smartphones, Tablets, Cameras, PSPs, MP3 Players, Bluetooth devices and more). As the most compact Micro-Start kit available, SPORT is the perfect travel companion to supply back-up power everywhere you go.
 FLASHLIGHT
To assist in lighting your way in dark places or at night, the SPORT also features a bright LED Flashlight. It has 3 modes: steady beam, strobe pattern, and SOS flash pattern – cycle through with the press of a button.
The Micro-Start SPORT lithium battery pack is small & lightweight (less than 1 lb) so you can take back-up power wherever you go! Whether commuting, camping or traveling, be confident you can start your vehicle, make an important call, and keep other devices powered. When you need to recharge the SPORT itself, just plug it into any USB port or charging device (such as your computer or cell phone charger, or one found in hotel or airport). USB cable is included for this and for powering your devices. The SPORT's ultra compact, durable carry case comes with everything you need for jump-starting & charging.

 SPORT TECH SPECS
SIZE: 5″ x 2.8″ x 0.875″ (mm: 127x71x22)
WEIGHT: 9.75 oz (276 g)
INPUT: Micro-USB 5V (1A)
OUTPUT: USB (5V 2.1A)
CAPACITY: 7500 mAh (27.75 Wh)
POWER: 150A Starting Current / 300A Peak
JUMPSTART: Gas Engines up to 4.0 Liter V6
FLASHLIGHT: Hi-Power LED
FULL CHARGING TIME: 5-6 hours
OPERATING TEMPERATURE: -30°C to 50°C
CASE SIZE: 7″ x 4″ x 2.5″ (mm:178x102x64)
  MORE DETAILS
Top Quality design throughout, starting with UL-listed lithium battery cells.
Lighted battery capacity indicator.
Automatic power-off when not in use.
Carry Case is made of durable Nylon material and has mesh pockets with elastic openings to neatly organize all parts.
SMART Jumper Clamp Features:
These clamps may be miniature in size but they are safe & reliable with smart features. They have a temperature sensor and multiple important protections built-in. These safety features help prevent over-heating and unsafe connections. The jumper clamps offer full protection from over-charge, over-discharge, reverse polarity connections, anti-spark, and no-spark on low-voltage batteries.
  SPORT KIT
SPORT MICRO-START
SMART JUMPER CLAMPS
4-INTO-1 USB CABLE
CARRY CASE

SPORT MICRO-START PPS

Personal Power Supply / Jump-Starter / Flashlight

SMART JUMPER CLAMPS

Mini, durable Jump-Starting Clamps. Multiple Safety Protections.

MULTI-TIP USB CABLE (4-into-1)

Charging Tips: Mini USB, Micro USB, Apple 8-pin, Apple 30-pin.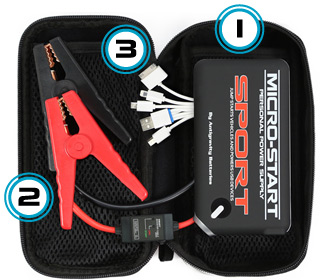 More questions? Read the following Micro-Start FAQ for answers to common questions about the SPORT. Still wondering? Feel free to call our knowledgeable Support team! 310 527 2330. You can also check out our
Downloads
page for Product Sheets and other helpful documents.
For additional FAQ and Answers about Micro-Starts in general, visit the
FAQs here
on our Info page.