Antigravity Batteries MICRO-START is the Original, Best Selling & TOP RATED mini Lithium Jump Starter / Personal Power Supply (PPS). When we say it's SMALL, we mean it fits in your POCKET and weighs less than 1 lb! Yet the Micro-Start is so powerful it will easily jump-start any car, truck, motorcycle or powersports vehicle. Amazingly it will also quickly charge & power most all your electronic devices: laptops, tablets, cell phones, cameras, MP3 players, Bluetooth devices and more! Never hunt for a power outlet – simply charge your MICRO-START and conveniently take back-up power anywhere you go!
TAKE IT EVERYWHERE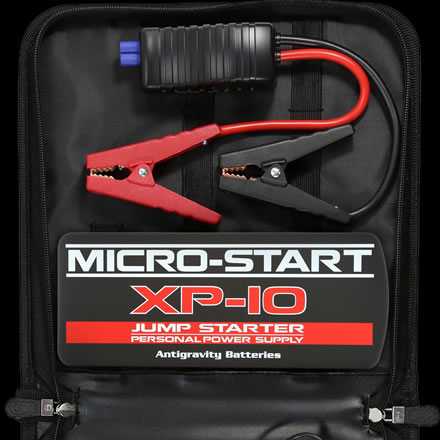 JUMP-START
Never worry about returning to a dead car battery - pull out your MICRO-START and get it started. The XP-1, XP-3 and SPORT models can start V8s. For diesel starting ability check out the XP-10, our most powerful Micro-Start!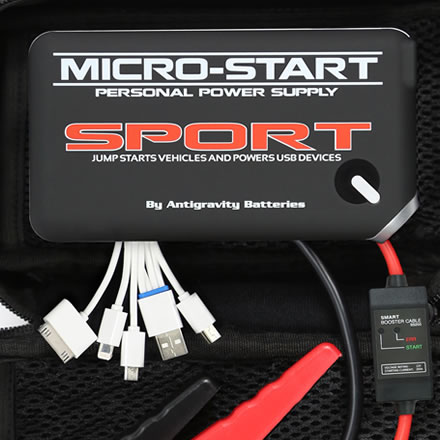 CHARGE
Always have power on your cell phone or laptop when you need it most - simply use your MICRO-START to get your electronics powered up again. All Micro-Starts are equipped with a USB port, while XP-1 and XP-10 also have 12V and 19V.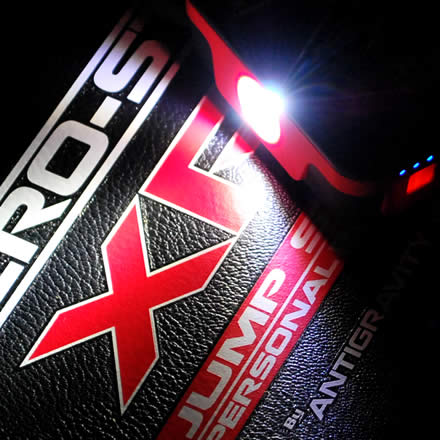 POWER
Along with ports to charge your devices, every Micro-Start has a hi-power on-board Flashlight with SOS and strobe patterns! Perfect for everyone including Drivers, Motorcyclists, Students, and anyone else needing backup power on the go.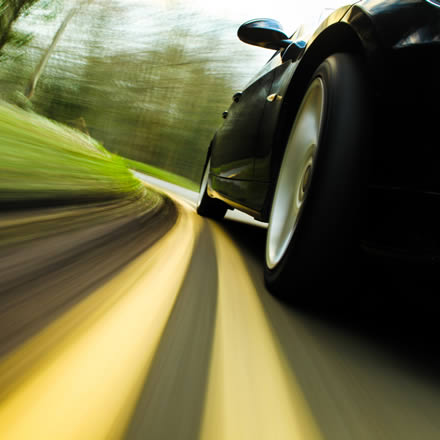 COMMUTE
MUST-HAVE device for riders and drivers! So small & lightweight you can carry it in your pocket, purse or backpack; and when you're driving on the road, it easily fits under the seat, in your glove box, center console or motorcycle saddlebag.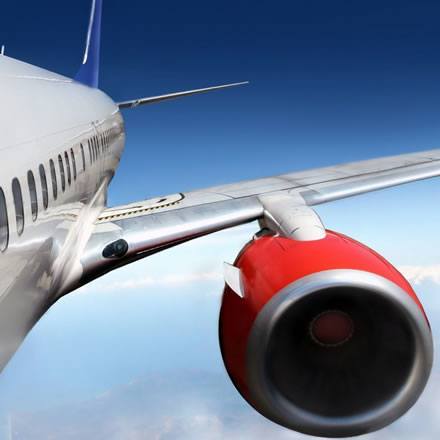 TRAVEL
PERFECT solution for all travelers. All of our PPS models are safe for air travel. Accommodates all the times you need extra power to charge your phone, tablet & other electronics while on business trips or commuting by bus, train, subway or plane.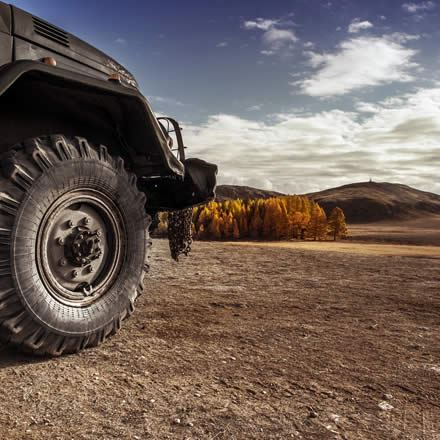 GO OFF-ROAD
FEARLESS! The perfect do-it-all device with amazing capabilities & multiple functions all uniquely delivered through a conveniently compact unit. Especially useful for backcountry treks & rides, camping, and for any outdoor enthusiast.

Antigravity's MICRO-START kits include everything you need to be powered on the go, whether simply charging your various electronic devices, or jump-starting a dead battery in your car, truck or motorcycle!

The Micro-Start is a MUST-HAVE tool for anyone who drives a vehicle or has electronic devices they use regularly. It can jump-start Cars, Trucks, Motorcycles, ATVs, UTVs, Snowmobiles and Watercraft. It will charge and power devices such as: Cell Phones, iPads, Kindles, PSPs, PDAs, GPS, Bluetooth Devices, Cameras and more… MICRO-STARTS have numerous uses, are lightweight and fit in your pocket. So take your personal power supply (PPS) everywhere, whether working or studying near home, traveling for business, or riding or camping off-road. People are always discovering new uses for their Micro-Starts!

Antigravity Batteries offers a broad selection of accessories for your Micro-Start, as extras or for replacement. From common cables to our unique Tire Inflator accessory, we make sure you can get the most out of your PPS!

Want to see more? Watch our informational videos to continue learning about each Micro-Start model. Check out our starting demonstration to see the Micro-Start's amazing jump-starting ability!

Read what others have to say about their Micro-Start! Check out our Testimonials page for the latest reviews on each Micro-Start model, where customers share their product use experiences.
A GREAT PRODUCT TO HAVE!
I always carried a lead acid battery jump starter. I needed to replace it and after much research, instead of getting another lead acid one, I decided to get a lithium battery jump starter. Of all the brands I researched, I felt the Antigravity Micro-Start was the best choice. I got the XP-10 and it is great to have the security of a jump starter that will also power and recharge my laptop and cell phone. It is compact, lightweight and well made. I am very satisfied and highly recommend it !!!

TAKE US ON YOUR NEXT ADVENTURE